Instructions for preparing MDS Tea ©
Instructions for preparing MDS Tea ©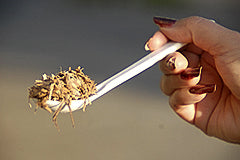 Instructions for preparing the tea
Every night boil four (4) cups (one quart) of pure water, not tap water, in a non-aluminum pot.
When the water starts to boil, add three (3) heaping tablespoons of the tea (shredded bark), cover the pot and let slow boil for 10 minutes (no more than 10 minutes). Each tablespoon should look like this:
After the 10 minutes of boiling, remove from the stove, and let steep overnight.
Next morning, strain the tea with a fine mesh strainer, then refrigerate if you are going to be home. If you need to take it with you, then add some ice and keep it in a thermos.
Drink the prepared infusion throughout the day, preferably one glass before each meal. The tea is totally NON TOXIC, so if you drink more than the three glasses there is no problem. IF YOU DRINK LESS, IT WILL NOT BE AS EFFECTIVE.
DO NOT REHEAT. Reheating will destroy the healing enzymes of the tea. Always keep the unused portion cold.
ALL THESE PROCEDURES MAY SEEM INCONVENIENT, BUT REMEMBER, YOUR HEALTH IS MOST IMPORTANT, SO PLEASE TAKE THE TIME AND FOLLOW INSTRUCTIONS. WE HAVE FOUND THAT NATURAL PRODUCTS WORK BEST WHEN THEY ARE INFUSED AND NOT TAKEN IN PILL FORM.
Note:
When starting to drink Milagro de la Selva, do not stop taking your medication. You should add the tea along with your medication and when the numbers begin to drop, then begin a gradual reduction of the dosage of your medication.

IMPORTANT: DO NOT ADD SWEETENERS OF ANY KIND

NOTE: If it is inconvenient to be preparing daily batches of the tea, you may prepare as much as five (5) days worth, as long as you keep the infusion refrigerated at all times.
* These statements have not been evaluated by the Food and Drug Administration. This product is not intended to diagnose, treat, cure or prevent any disease.
YouTube Video: Making Milagro de la Selva Diabates Tea